When it comes to buying Jugs, your options may be fairly limited because these dogs are still fairly rare. You may be lucky enough to come upon one at your local pet store, but you should consider whether that is really the best place to buy a puppy.
When you buy from a pet store, you cannot be sure where the puppy came from and you may not have any information about the puppy's parentage. Your best bet is to purchase from a reputable and experienced breeder.
In performing a simple online search, you should be able to find a Jug breeder in your local or regional area. You may also be able to ask your veterinarian or local animal shelter for recommendations on where to find breeders. Below you will find a list of some Jug breeders in both the U.S. and the U.K. from which you can buy puppies:
United States Links:
Greenfield Puppies.
http://www.greenfieldpuppies.com/jug-puppies-for-sale-pa-md-de/
Sunnyside Puppies.
http://www.sunnysidepuppies.com/
Jugs – DogBreed.org
http://www.jug.dogbreed.org/forsale.asp
Chevromist Kennels.
http://www.chevromist.com/jugs/
Initial Costs
The initial costs for a Jug dog include the cost to purchase the dog as well as initial vaccinations, spay/neuter surgery, microchipping and various accessories.
Purchase Price
The most important initial cost you must consider when buying a Jug is, of course, the cost of the dog itself. Costs for Jugs may vary depending where you look – you may be able to find one at your local pet store, though you should not expect that to be the case since Jugs are still fairly rare.
Your best bet is to buy from a local or regional breeder who specializes in the Jug breed – just be careful not to fall victim to the misconception that hybrid breeds like Jugs should be more expensive than purebred dogs.
You should expect to pay between $200 and $400 (£130 – £260) for a Jug puppy from a reputable breeder.
Where Did You Buy Your Jug Dog From?
Here we get answers from helpful Jug owners…
Sonya Leanne Jones says: "I bought my Jug for £450 from a private breeder in Northampton in the UK. She is a 50 50 Jack Russell x Pug. But we just had pups from her that have just left us, but they are 3/4 Pug but still Jugs and they went for £550. I bloody love Jugs they are ace."
Jennifer Redmond DeBeltz: "We have a Jug her Dad is all Pug and mom Jug. She is a wild thing! We purchased her from a Amish Breeder in PA. She was the last and 6 months old (cost $250)."
Carla Mulrooney: "My Jug is Snoop 3/4 Pug 1/4 Jack Russell and bought from Airdrie for £500."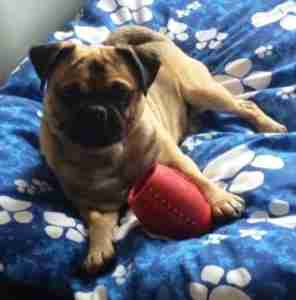 Jade Bishop says: "I paid £350 for Khaleesi the black Jug and paid £340 for Nala. Khaleesi was from near Worcester and Nala from Wales somewhere lol my beautiful fur babies xx."
Mark Hopkins says: "Luna was from Lincolnshire and cost £400 and is 50/50 Pug and Jack Russell and was 1 of only 2 pups and is a great dog."
Jennifer Rose Mua: "I bought a Jug puppy for £475 from Manchester and he is perfect wouldn't be without him. Xx."
Mandy Dale: "I bought my Jug dog called Ethel. Best £550 I spent. Got her from breeder in Willenhall, UK."
Claire Oliver: "I brought my Jug Maisie from Leicestershire for £389."
Tracey Hobbs: "Buddy was from Doncaster UK and cost £550."
Janine Hemmings: "My Jug cost £400 from Killamarsh Sheffield."
Louise Hyem: "I paid £300 for our gorgeous Doris, worth every penny!"
Jo Pieton advises on buying a Jug: "We bought Norman from a breeder on the Isle of Wight for £350 he is such a sweetie."
Isabelle Brust has a Jug that costs €350 "I'm Daisy from Eindhoven in The Netherlands."
Luke Akrigg says: "Mine cost $1250 – Brisbane Australia. Name is Hugo, great dog and very friendly!"
Sharon Navarski paid $300 from an Amish farmer in Pennsylvania for Clementine.
Colin Marshall says "This is Bentley! Drove from Glasgow to Pickering on Xmas Eve (3-years this Xmas) to collect him. Cost us £495 and he was from a litter of 6 (3-boys & 3-girls). He's a riot and has his own page Bentley – From Jug to Thug."
How to Select a Your Jug
Picking out a Jug puppy involves more than simply going to a breeder and choosing the one that you like best. First you have to take the time to do your research in selecting the right breeder and then you should spend some time interacting with all of the puppies available to choose the one that is best suited for you and your family.
Choosing a reputable breeder is incredibly important because you want to be sure that your Jug comes from good quality breeding stock and that the puppies are properly cared for between the time when they are born and when you take your puppy home.
Below is a list of tips for choosing a reputable Jug breeder:
• Compile a list of several breeders in your area and contact them each personally
• Ask the breeder questions about the Jug breed and about their experience to ascertain whether they are truly professional in their practices or simply a hobby breeder
• Get as much information from the breeder as you can about their breeding stock including pedigree information, health history and more
• Narrow down your list of breeders based on their answers to your questions – if they breeder doesn't seem knowledgeable about the Jug breed or doesn't have much experience, move on
• Schedule visits with the few breeders you have narrowed your choices down to
• Ask to visit the breeding facilities so you can see the parents of the litter as well as the conditions in which the animals are kept – if the facilities aren't clean, the dogs may not be healthy so you should move on to your next option
• Select the breeder that you feel is most trustworthy and start the process for putting down a deposit on a Jug puppy
After you choose the breeder you want to buy from, your next step is to pick out the Jug puppy you want.
Most breeders will allow you to come visit the puppies shortly after they are born so you can make the choice yourself.
It is important that you actually go to visit the puppies yourself rather than selecting them by just a picture — you want to get a feel for the puppy's personality so you can choose the one that is best suited to your family.
Below you will find a list of steps to follow when you do visit the puppies to make sure you pick out one that is healthy:
• Take a few minutes to watch the litter of puppies from one side of the room – watch how they interact with each other
• Look for signs of healthy activity – the puppies shouldn't be hiding in one corner of the room or moving sluggishly
• Wait to see if the puppies show an interest in you – Jugs are naturally curious and friendly with people, so the puppies should make their way toward to you smell you
• Spend a few minutes interacting with each puppy individually to get a feel for his temperament
• Give the puppy time to sniff you before you pick him up and gauge his reaction when you do – the puppy should be calm, not frightened of being picked up
• Check the puppy for obvious signs of illness – discharge from the nose or mouth, cloudy eyes, palpable lumps or bumps
• Play with the puppies to see how they react to you and see which one you feel a connection with
• Tell the breeder which puppy you like best and put down a deposit to reserve him
In most cases, breeders allow potential owners to come visit the puppies before they are ready to go home.
The standard procedure is to put down a deposit on the puppy to claim it – you will then return for the puppy when he has been weaned and is ready to go home.
You should also receive a health guarantee from the breeder as well as registry information for the parents of the litter. This is especially important if you plan to breed Jugs yourself.
Why not tell us below in the comments box below, what you chose to buy a Jug as compared to other (currently) more popular types of dogs?
Tim Webb from the United Kingdom says: We chose Frank because we wanted a Pug type dog. After a brief search we were told about Jugs and we went to see some little puppy's and found Frank.

Frank the Jug from owner Tim Webb

Adele Lawson says: This is our Ruby. She's so affectionate but the Jack Russell in her means she's also a little character. We love pugs but they often have breathing difficulties so think that Jugs have less health issues. They are just gorgeous dogs.

Ruby the Jug from owner Adele Lawson

Sarah March says: My son wanted a pug I wanted a jack Russell and my husband just wanted a pup. That's how we ended up with our four legged son BIB X

Bib the Jug – from owner Sarah March

Natasha Ching says: My baby girl Minnie. Love her so much even though she's only been with us a short time. I always wanted a pug but had a Jug as she had so much character and is so loving.

Minnie the Jug from Natasha Ching